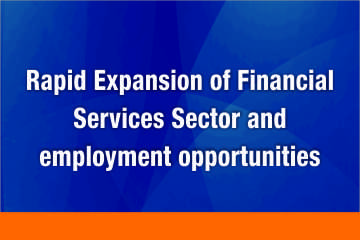 Rapid Expansion of Financial Services Sector and employment opportunities
India has a diversified financial sector undergoing rapid expansion, both in terms of strong growth of existing financial services firms and new entities entering the market. The sector comprises commercial banks, insurance companies, non-banking financial companies, co-operatives, pension funds, stock brokers, mutual funds, investment advisors, wealth managers and other smaller financial entities. However, financial sector in India is predominantly a banking sector with commercial banks accounting for more than 64% of the total assets held by the financial system.
Market Size
As of September 2021, AUM managed by the mutual funds industry stood at Rs. 37,40,791 Crores in about 10.25 Crore folios. Average investment size is Rs 1,61,000.
Number of investors directly investing in stock markets as indicated by number of depository accounts has crossed 6.5 crores. In FY21, there were 55 initial public offerings (IPOs). In FY21, the number of listed companies on the NSE and BSE were 1,920 and 5,542 respectively.
Another crucial component of India's financial industry is the insurance industry. Insurance industry has been expanding at a fast pace. The total first year premium of life insurance companies reached Rs. 2.59 lakh crore in FY20.
According to the statistics by the Futures Industry Association (FIA), a derivatives trade association, the National Stock Exchange of India Ltd. (NSE) emerged as the world's largest derivatives exchange in 2020 in terms number of contracts traded. NSE was ranked 4th worldwide in cash equities by number of trades as per the statistics maintained by the World Federation of Exchanges (WFE) for CY2020.
Government Initiatives and road ahead
Government has taken several initiatives that will help grow the financial services industry. Some of such initiatives that can create more employment in this sector is that the government has approved 100% FDI for insurance intermediaries and increased FDI limit in the insurance sector to 74% from 49% under the Union Budget 2021-22.
India is expected to be the fourth largest private wealth market globally by 2028. India is today one of the most vibrant global economies on the back of robust capital markets, banking and insurance sectors. The relaxation of foreign investment rules has received a positive response from the insurance sector, with many companies announcing plans to increase their stakes in joint ventures with Indian companies.
The Banking, Financial Services, and Insurance (BFSI) Sector is poised to grow create additional employment of over 1.6 million during 2013-2022 as per a report of National Skill Development Corporation (NSDC).
Employment opportunities in Financial Services Industry
Keeping in view all these developments in the financial services industry, ASAP Kerala has joined hands with National Institute of Securities Markets (NISM – an institute set up by SEBI for skill development for securities markets), Indian Institute of Banking and Finance (an Institute set up all banks for skill development in banking sector) and National Insurance Academy (an institute set up for skill development in insurance sector) to design and develop an education program to inculcate skills relating to securities markets, banking and insurance in all graduate students. The course is called Certified BFSI Professional and was launched on October 8, 2021.
This is a 187 hours self-paced eLearning course supported with reference text material (in soft form) and contact classes which is designed to help participants to complete the course in about 9 months' time. This is an ideal program for students pursuing any graduation program to get ready to employed in financial services sector. As the course gives basics of securities markets, banking and insurance, employers from these three sectors can easily recruit candidates who have completed this course. In addition, students who take this program will be fully prepared to take certification programs offered by NISM and other institutions.
This is a first of its kind program in India and no other institution is offering this kind of a program that imparts knowledge about all the three important sectors in the financial services industry. Students who pass this program, which can be pursued along with their regular graduation program, will be well prepared to pass interviews for job conducted by banks, insurance companies, stock exchanges and mutual funds. In addition, they can start their own enterprise as insurance agents, mutual fund distributors or be able to take up job as wealth managers in banks.
ASAP has made a special arrangement to offer this program exclusively for students studying in Kerala State until the end of this year.
End.