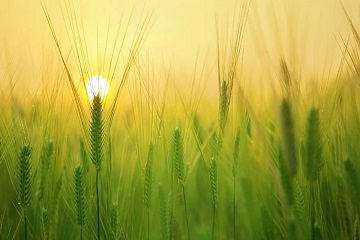 Agri – Trading Opportunities waiting in the wings to take off
Agri – Trading Opportunities waiting in the wings to take off
Dr V.R. Narasimhan
The New Year 2021 has opened a huge Agri Commodity Trading opportunity for traders who are willing to invest their entrepreneurial skills for a long term and sustained benefit than for short terms gains. The Farmers' Produce Trade and Commerce (Promotion and Facilitation) Act, 2020 throws open a huge opportunity to organise the 'cash market' for agri commodities on the lines of sophisticated securities markets at least for such agri commodities that are amenable to assaying to standardise the quality. This article attempts to explain how the provisions in the legislation and Rules made thereunder facilitate setting up a electronic trading platform which can be benefit traders, farmers and end users.
1. Preamble to The farmers' Produce Trade and Commerce (promotion and facilitation) Act, 2020 (FPTCA) reads as "An Act to provide for the creation of an ecosystem where the farmers and traders enjoy the freedom of choice relating to sale and purchase of farmers' produce which facilitates remunerative prices through competitive alternative trading channels; to promote efficient, transparent and barrier-free inter-State and intra-State trade and commerce of farmers' produce outside the physical premises of markets or deemed markets notified under various State agricultural produce market legislations; to provide a facilitative framework for electronic trading and for matters connected therewith or incidental thereto.".(Emphasis supplied).
Legislative intent is unequivocal in that it states that it is enacted to facilitate creation of electronic trading platform.
The electronic platform will facilitate sale and purchase in the same way that securities are traded on stock exchange platform. FPTCA defines electronic trading platform as "electronic trading and transaction platform" means a platform set up to facilitate direct and online buying and selling for conduct of trade and commerce of farmers' produce through a network of electronic devices and internet applications, where each such transaction results in physical delivery of farmers' produce." FPTCA also assures that "Subject to the provisions of this Act, any farmer or trader or electronic trading and transaction platform shall have the freedom to carry on the inter-State or intra-State trade and commerce in farmers' produce in a trade area."
There are no restrictions on who can establish an electronic trading platform. Section enables " Any person (other than individual), having a permanent account number allotted under the Income-tax Act, 1961or such other document as may be notified by the Central Government or any farmer producer organisation or agricultural co-operative society may establish and operate an electronic trading and transaction platform for facilitating inter-State or intra-State trade and commerce of scheduled farmers' produce in a trade area:
Provided that the person establishing and operating an electronic trading and transaction
platform shall prepare and implement the guidelines for fair trade practices such as mode of trading, fees, technical parameters including inter-operability with other platforms, logistics arrangements, quality assessment, timely payment, dissemination of guidelines in local language of the place of operation of the platform and such other matters." The expression 'person' used in this definition is very broad as it states that "person" includes––
(a) an individual;
(b) a partnership firm;
(c) a company;
(d) a limited liability partnership;
(e) a co-operative society;
(f) a society; or
(g) any association or body of persons duly incorporated or recognised
as a group under any ongoing programmes of the Central Government or the
State Government."
Trader is also defined in very broad terms and as such there are no restrictions on who can be a trader. As the Act, "trader" means a person who buys farmers' produce by way of inter-State trade or intra-State trade or a combination thereof, either for self or on behalf of one or more persons for the purpose of wholesale trade, retail, end-use, value addition, processing, manufacturing, export, consumption or for such other purpose." The only condition prescribed under section 4(1) of the Act is that the trader should have a PAN.
The electronic system is not a rocket science any more. The technical facilities available with existing commodity exchanges or stock exchanges can be replicated for agri trading – tweaking may be required only for identification of traded commodities and unit of measurement.
The challenge is that whereas securities are standardised and identity of goods sold and bought fully converge in the intents of seller and buyer due to which there are no disputes with respect to quality of goods sold and bought. But in case of agri-commodities, it may appear that such standardisation and convergence of intent is difficult to achieve. Therefore, to start with, agri commodities that are amenable to standardisation of quality with appropriate assaying techniques should be chosen to be traded on this trading platform. The point to be noted is that the commodity should be identified with its quality through appropriate and undisputable assaying technique and allow all qualities to be traded on the platform. There will be takers for all qualities of the commodity since they have a wide variety of applications.
The above challenge can also be handled satisfactorily, if start with, only commodities like castor seeds, mustard, turmeric, guar seeds, Til (sesame seeds), Jeera, chillies, coffee seeds, Tea, Cashew nuts etc are selected as these commodities can be classified into definite grades, have longer shelf life and have country wide consumption and even have significant export potential. All these goods are permitted under FPTCA as the definition of farmers' produce is very broad:
"(c) "farmers' produce" means,––
(i) foodstuffs including cereals like wheat, rice or other coarse grains, pulses, edible oilseeds, oils, vegetables, fruits, nuts, spices, sugarcane and products of poultry, piggery, goatery, fishery and dairy intended for human consumption in its natural or processed form;
(ii) cattle fodder including oilcakes and other concentrates; and
(iii) raw cotton whether ginned or unginned, cotton seeds and raw jute"
It is important to note that the commodity can be "natural or processed form". As even processed form is permitted to be traded, such commodities not amenable to grading or those which do not have long shelf life (highly perishable) in their natural form can be processed so that their identity get subsumed in the processed output or their shelf life gets substantially extended. For example, 'orange pulp' can be traded instead of 'oranges' or 'mango pulp' instead of 'mangoes'.
2.The definition of electronic trading facility clearly requires that every electronic trade on this platform should result in delivery. Thankfully, definition of farmer means "farmer" means an individual engaged in the production of farmers' produce by self or by hired labour or otherwise, and includes the farmer producer organisation." As farmers producer organisations are also defined as farmers, the trading platform may enrol (register) farmers or farmer producer organisations as sell side clients. The registration may involve entering into an appropriate contract or agreement with the farmer/FPO to create obligation of deliver for every sale on the platform. Or FPO or farmer may be encouraged to come through a registered broker such that the broker will be able to verify the veracity of sale order placed on the platform.
Entrepreneurial challenge is to enrol the 'demand side' clients since unless adequate demand is generated, sell side may not be enthused. However, there is no restriction on who should be on the 'buy side'. Therefore, street corner kirana shop owners, professional caterers, departmental stores, nationwide marts, electronic order aggregators like flipkart / bigbaskets, wholesalers in different cities/towns in the country and even export houses can be enrolled. This enrolment requires some effort in terms of educating these entities to understand the advantage of this trading platform.
3.The Act is legislated for the welfare of the farmers. To be in line with this welfare objective, the Act requires that " Every trader who transacts with farmers shall make payment for the traded scheduled farmers' produce on the same day or within the maximum three working days if procedurally so required subject to the condition that the receipt of delivery mentioning the due payment amount shall be given to the farmer on the same day:
Provided that the Central Government may prescribe a different procedure of payment
by farmer produce organisation or agriculture co-operative society, by whatever name called, linked with the receipt of payment from the buyers."
It is highly desirable that the electronic trading facility is coupled with 'clearing corporation' or 'settlement function' which ensure delivery and payment. Entrepreneurial challenge is the encourage the 'farmer' or FPO to use warehousing infrastructure and electronic Warehouse Receipts system for enhance certainty in delivery. If farmers or FPOs get habituated to use of assaying/warehousing, it will definitely give them flexibility on the time of sale and party to whom to sell, etc which will result in better yields to them.
As this trading platform shows benefits to the farmers/FPOs in objective terms, one can expect that farmers may change the cropping patterns moving away from cultivating 'surplus' crops like wheat and paddy to commercial beneficial farms.
4.The Rules framed under this Act with the tile "Farmers' Produce Trade and Commerce (Promotion and Facilitation) Rules, 2020" focus on Payment Procedure for Trade in Trade Area and Disputes Settlement Mechanism Pertaining to Farmers and Penalties. While structuring the 'Trading Rules' for participating on the electronic trading platform care may be taken to incorporate the principles laid down in these rules so that the acceptability will be higher.
Way forward
Readers will recollect that enabling legal and regulatory framework have revolutionised 'cash markets' for securities in terms of electronic trading and electronic settlements. Since these two facilities get well settled, in addition to domestic investors (household and institutional investors) getting involved in investment activity from across metros and towns, our country has become an important investment destination even globally. India is has several agri commodities in which it is one of the largest producers across the globe but our participation in global markets is not as much as its potential would warrant due to inadequacies in our cash markets. If large farmers and FPOs realise their potential and benefits of involving in inter-state trades and export, the intent of this legislation will be well served. As the agriculture becomes more beneficial, investment into agriculture will flow which in turn will create jobs in agricultural sector. Jobs are a crying need for Indian youth.
Since enabling legislation is now available and perhaps even government will be keen to support the pioneers who set up electronic trading platform, this opportunity should not be let go. The technology is easily available today. Framework for electronic trading is available to emulate. Regulatory structure already exists which only needs to be adapted to agri commodities. WDRA, electronic warehousing receipts have come to stay; payment systems have become very sophisticated. There is nothing to stop except that we need imaginative entrepreneurs to pick up this opportunity.
Readers of this journal are the most eminently suitable encash this opportunity waiting in the wings. Hope 2021 will get us new 'trading opportunities' in the form of trading Agri -commodities.
End of document.