2nd Alumni Interaction on Introduction to PMS and AIFs by Mr. Nikhil Gupta on October 10, 2020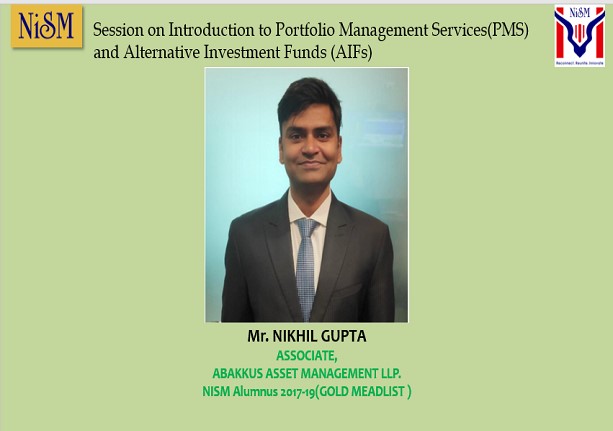 The second Alumni Interaction on "Introduction to Portfolio Management Services(PMS) and Alternative Investment Funds (AIFs)" has been conducted by one of the most prestigious alumni and Gold Medallist belonging to Batch 2017, Mr. Nikhil Gupta, Product Specialist, Abakkus Investing. The Keynote speech was given by Shri Sahil Malik, General Manager SEBI and NISM.
Mr. Gupta not only explained the complex concepts of Hedge Funds, in detail, but also shared his valuable experience gained over his journey of his academic and professional carrier. Out of his practical experience, he encouraged the gathering to acquire more knowledge about the current market trends from the SEBI website and to be prepare for the job market consistently. This session was highly informative and an eye opener for all the newer of this concept – PMS and AIFs. The interaction was attended by Alumni, Faculty and Officers, students of PGDM-SM, PGCSM, LLM in investments and Securities Law, PGCM (Data Science in Financial Markets) of NISM and moderated by Dr. Pradiptarathi Panda.
This alumni interaction is a continuous activity of the alumni committee. All the interested alumni can write to us at alumni@nism.ac.in with their topic of choice for the alumni interaction. We will accommodate accordingly.