3rd Alumni Interaction on IPO, PRE IPO, Fundamental Investing and Fund management by Mr. Aditya Kondawar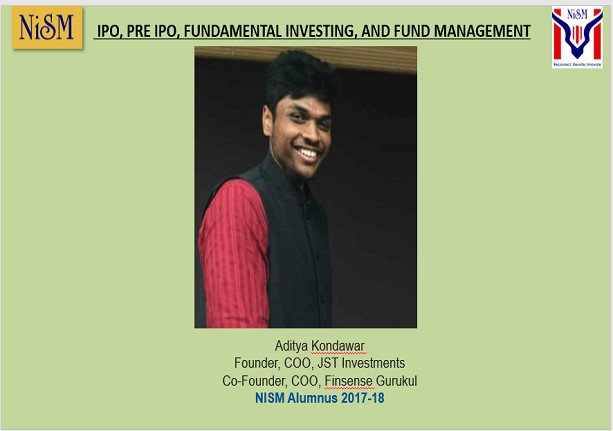 NISM Alumni committee witnessed an another memorable Alumni Interaction session, on 17th Oct, 2020, where Alumni, Faculty and Officers, students of PGDM-SM, PGCSM, LLM in investments and Securities Law, PGCM (Data Science in Financial Markets) of NISM marked their presence. Dr. Jatin Trivedi, Associate Professor has delivered the keynote address and shared the importance of knowledge and skills along with their optimum utilization.
Our proud Alumnus Mr. Aditya Kondawar, (Founder and COO of JST Investments and Finance Gurukul) well known for his publications across various financial news platforms and social media was the speaker for the session. He spoke on the topic that has been trending for quite a while now, i.e. IPO, PRE IPO, Fundamental Investing and Fund management. In his 90 minutes of insightful session, he took us through his experience in IPO investing and fundamental investing. He extensively covered the stated topic right from the basics of IPO, its life cycle, its participants, pre IPO, DRHP, etc. He also discussed some amazing case studies related to the topic.
Towards the end, Mr. Aditya generously answered all the queries from the audience, regarding future of Algo Trading, entrepreneurship, importance of reading and many more. All attendees of the session went back with inspiration and enormous amount of knowledge on the topic. The session was moderated by Dr. Pradiptarathi Panda. Stay tuned for many more interactions. All the interested alumni can write us at alumni@nism.ac.in with their topic of choice for the alumni interaction. We will accommodate accordingly.