3rd SEBI NISM research conference, February 24-25, 2022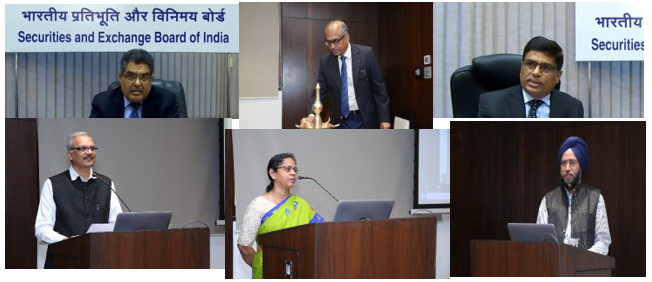 The Third SEBI-NISM Research Conference on "Investing in Recovery: Challenges and Opportunities for Indian Securities Markets" has been conducted during 24-25, February 2022 at the NISM Patalganga campus in a hybrid mode. The conference was inaugurated by Hon'ble SEBI Chairman Shri Ajay Tyagi, Shri Nikhil Rathi, Chief Executive, FCA, UK, Dr. CKG Nair, Director-NISM, Shri S k Mohanty- WTM SEBI, and Shri Sunil J Kadam, Registrar NISM. Dr. Nair welcomed all the participants and emphasises the importance of research in securities markets. Shri Tyagi delivered the address stating the recent developments of Indian securities markets. Further, he stressed the importance of research in the valuation of high-tech companies.
The conference had four-panel discussions namely- New era of investing and reporting, Passive Investing, Social stock exchange- the way forward, and Valuation of new-age tech companies. Eminent speakers from the industry were part of the panel discussions. The Panel Discussion I – Sustainable Finance – New Era of Investing and Reporting was moderated by Cyril Shroff (Managing Partner, Cyril Amarchand Mangaldas), and the panel members were Ajit Dayal of Quantum Advisors,  Joanne Henstock of the Prince's Accounting for Sustainability project,  R Mukundan of Tata Chemicals Ltd and Conor Kehoe.of McKinsey. The Panel deliberated on with the idea of why sustainable finance is the need of the hour and how globally as well as in India, there is a shift towards a more sustainable approach for the growth of companies keeping in mind the ESG (Environment, Social and Governance) Approach. The panel suggested focusing on the 3Ps (Planet, People, and Profit), instead of the traditional Profit only.
The Panel Discussion II – Passive Investing was moderated by Ms. Monika Halan of NISM. The panel member for this discussion was Nilesh Shah of Kotak Mahindra Asset Management Co. Ltd.; Neeraj Chokshi of NJ India; Arnaud Llinas of Amundi ETF. The panel discussed Passive Investments, their advantages, and how it is suited to the modern investment outlook of retail investors.
The Panel Discussion III – Social Stock Exchange – The Way Forward was moderated by Mr. Amarjeet Singh of SEBI. The panel members of this session were Ved Arya of Srijan; Amit Chandra of Bain Capital Advisors (India) Private Limited; R. Balasubramaniam (Founder GRAAM & SVYM and Member, Capacity Building Commission, Government of India); Pushpa Aman Singh (Founder, GuideStar India).
The Social Stock Exchange is a novel concept in India and is meant to serve private and non-profit sector providers by channeling greater capital to them. Participants in the social stock exchange would be enterprises having social intent and impact as their primary goal. SEBI has published two reports on its website on social stock exchange. There are only three functional stock exchanges in the world. India is going to start the social stock exchange platform very soon. Social Stock exchanges would aid in bridging the gap between demand (the social sector) and supply side (investors). The intermediary structure for the collective needs shall be strong enough for the success of the process. From playing the role of regulator to the market maker to influencer; there are many challenges that SSEs will have to face and will able to overcome them at the same time.
The panel discussion IV – Valuation of New Age Tech Companies was moderated by Nisha Poddar of CNBC-TV18, and the panel members were Mohandas Pai (Chairman, 3one4 Capital, Co-Founder & Chairman, Aarin Capital, Chairman, Manipal Global Education, India); Sanjeev Bikhchandani (Founder and Executive Vice Chairman, Info Edge India Ltd); Prashant Jain (Executive Director & Chief Investment Officer, HDFC Mutual Fund); and Manoj Dengla (Partner, Arwood Partners Ltd.) The panel analysed in-depth on the challenges with valuing the New Age Tech companies since they are so disruptive and new; one cannot value them using traditional models like discounted cash flow. These companies often fail to communicate effectively with the public retail market, and the need to regard investor relations as a major customer service. Experts also highlighted that companies today often talk about metrics like valuation, gross merchandise value (GMV), and lifetime value, while other important ones like return on capital (ROC), free cash flow (FCF), and customer service take a back seat. It was also pointed out that valuations of companies are being marked up every two months, and these benchmarks are being used to price the public offering. A key suggestion to eliminate such "misalignment of incentive" was banning offer for sale (OFS) in an initial public offering (IPO) if the company is loss-making.
There were 31 research papers presented in this conference over 11 technical sessions. The conference has received 149 research papers and accepted 33 research papers after a blind review process. The paper presenters were from China, Sri Lanka, Australia, Denmark, United States, IIM (Ahmedabad, Shillong, Visakhapatnam, Jammu) IGIDR, IIT- Kharagpur, Madras, Bombay, XLRI, NIT, NITIE-Mumbai, Madras School of Economics, Central Universities like- Pondicherry University, University of Hyderabad, SP Jain School of Management, and eminent institutes and Universities of India. Research papers presented in these two days' conferences are in the areas of sustainable finance, capital markets in the changing context, the culture of equity and long term investment by Households, Evolving markets landscape, and Indian commodity markets. Following papers won the best paper award in this conference.
| Title of the research paper | Author's | Won |
| --- | --- | --- |
| Do Mutual Funds Reward Downside Risk? Evidence from an Emerging Economy | Dr. Pankaj K Agarwal (IIM Jammu) Dr. H K Pradhan(XLRI Jamshedpur) | 1st Best paper |
| Political connections, firm leverage and cost of capital: Evidence of listed firms from India | Kousik Ganguly(IIT Kharagpur) Ajay Kumar Mishra(IIT Kharagpur) Pankaj Kumar Jain(United States) | 2nd best paper |
| Dynamic Connectedness and Directional Spillovers between Oil Shocks and the Indian Equity Market: A Time-Frequency Approach | Sreelakshmi R Sabuj Kumar Mandal (IIT Madras) | 3rd Best paper |
| Does investor base affect the firm-level ex-ante cost of equity capital? | Jains P Chacko Lakshmi Padmakumari (IFMR GSB, Krea University) | 3rd Best paper |
The valedictory address was given by Dr. N R Bhanumurthy, Vice-Chancellor, Base University, Bangalore, and Mr. Amarjeet Singh, Executive Director, SEBI. Dr. Bhanumurthy delivered his address on the significant areas for research in securities markets and the role of financial markets. The linkages between real sector and financial sector research are missing. The researcher thinks that there is no role of Govt in the Financial markets. Fiscal policy plays a significant role in the financial markets. Dr. Bhanumurthy has encouraged researchers to research the interlinkages between fiscal policy and financial markets. The recent budget has given more importance to financial inclusion by converting the India post to banks which will help to reach the people of the bottom of the pyramid. Most of Jan Dhan accounts have been opened through public sector banks. The researcher shall do more research on sustainable finance because sustainable finance is helping for sustainable development. NISM and SEBI shall create a database on Securities Markets so that researchers will not face any problems in doing research.
SEBI Chairman's speech can be accessed at-https://www.sebi.gov.in/media/speeches/feb-2022/chairman-s-speech-at-third-sebi-nism-research-conference-february-24-2022_56365.html
The conference can be accessed through the YouTube links given below.
24th February 2022–
1. https://www.youtube.com/watch?v=TvR9xatdXoQ
2. https://www.youtube.com/watch?v=2OqWXoH2Xkw
25th February 2022-
1. https://www.youtube.com/watch?v=G_Lut1nCVxo&t=5974s