Current Issues and Policy Options in Financial Markets- August 26-27, 2020
Two Days' Web-based Research Seminar
On
Current Issues and Policy Options in Financial Markets
(August 26-27, 2020 | Jointly organised by NISM & TIES)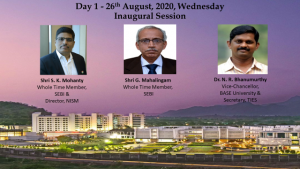 The School for Securities Information and Research (SSIR) of National Institute of Securities Markets (NISM) organised the two days' web-based research seminar on Current Issues and Policy Options in Financial Markets jointly with The Indian Econometric Society (TIES), on 26-27 August, 2020. More than 250 researchers participated in the seminar. The seminar attracted 47 papers submitted on various themes related to impact of COVID 19 on Indian economy, global economy, capital markets, different sectors in the economy and forecasting COVID 19 cases. 12 shortlisted papers were presented in the conference in three technical sessions.
The program began with opening remarks provided by Prof. N R Bhanumurthy, Vice-Chancellor of BASE University, Bangalore and Secretary, TIES. He spoke about the importance of real economy for the financial markets and suggested that more research that examines the interlinkages between Fiscal, Financial and Monetary Policy should be done.
Welcome address given by Shri S. K. Mohanty, Director, NISM and WTM, SEBI. Shri Mohanty sensitised the participants to the fact that many sectors in the economy were not doing well in the pre-COVID 19 period and hence those numbers cannot be taken as benchmarks for research related to COVID 19 impact. He welcomed all the participants and suggested a wide range of areas for future research like SME, credit rating and capital market, NBFC performance etc.
Shri G. Mahalingam, the Whole-Time Member of SEBI delivered the keynote address. He spoke about the position of India in international markets in terms of Market capitalisation, PE ratio, the buffet indicators and provided a justification for foreign fund inflows into the country. He underlined the need and importance of research in financial markets. The session ended with vote of thanks by Dr. Pradiptarathi Panda, the Seminar co-coordinator.
Expert lecture series organised as a part of this webinar included lectures by Shree Sujit Prasad, ED, SEBI and Dr. Pami Dua of Delhi School of Economics and member of MPC, RBI.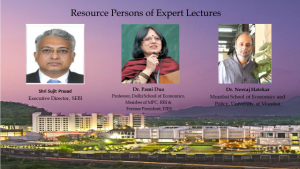 Shri Sujit Prasad explained the regulatory responses by SEBI. He explained various measures taken to stabilise the market and safeguard investor interests. He brought to the attention of all participants that SEBI has introduced the innovation sandbox of SEBI, which is free for all the fintech researchers, which carries not only trade data but also order data. He invited all innovators and researchers to use this facility and contribute to the knowledge and understanding of Indian capital markets.
Prof. Pami Dua session was on the Monetary Policy Framework in India. Prof. Dua covered various aspects of monetary policy like inflation targeting, price stability, interest rate, voting pattern in the MPC in India and rest of the world, the channels of monetary policy transmission and unconventional policy intervention undertaken by the RBI in recent times.
The first day ended with a technical session on Portfolio and Firm Performance Chaired by Dr. K. Shanmugam Treasure, TIES and Professor at M. S. University, Baroda.
The Second day began with a Panel Discussion on Current Issues and Policy Options in Financial Markets moderated by Prof. Latha Chari, HOD of SSIR, NISM. The speakers of the sessions were Dr. H. K. Pradhan, Professor, XLRI Jamshedpur, Prof. Rajiv Shastri, Professor of Practice, NISM and Dr. K. Shanmugam, M. S. University, Baroda and Treasurer, TIES. The panel of speakers covered channels of risks in different segments, and the process of risk spillovers. They have also explained some of the actions regulators have taken for different sectors to contain risks.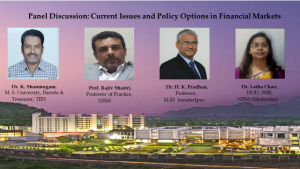 The Expert lecture on the COVID-19 in IndiaNo Prognosis is the only possible prognosis by Dr. Neeraj Hatekar, Professor, Mumbai School of Economics and Public Policy (MSEPP) was interesting and attempted to predict the COVID 19 case progression in the country.
The session was followed by a special session on "Careers in Securities Markets" by Shri Sahil Malik GM, NISM (General Manager of SEBI on deputation with NISM). Shri Malik has explained how students can build their career and join the securities markets industry.
The Technical session II on Commodity, Equity and Mutual Fundwas chaired by Dr. Malabika Deo, Professor, Department of Commerce, Pondicherry University. The Technical session III on Recent Policy Options in Financial Marketswas chaired by Dr. Prabhakar Patil, Chief General Manager, SEBI.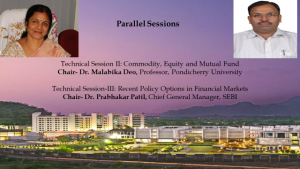 The valedictory address was given by Shri Sunil Kadam, Registrar, NISM and Dr. K. Shanmugan, Treasurer, TIES. The vote of thanks was given by Dr. Pradiptarathi Panda, Assistant Professor, NISM and the Seminar Co-coordinator.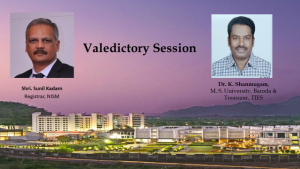 The Programme was coordinated by Dr. Latha Chari, Dr. Pradiptarathi Panda, and Mr. Ashutosh Kumar of NISM under the guidance of Dr. V. R. Narasimhan, NISM.
The presentations are available under the following links:
No Prognosis is the only possible prognosis : Click Here
Career Opportunities in Securities Markets: Click Here