Inaugural Ceremony of PGCM (DSFM) 2022-23 Batch
The Inaugural ceremony of Post Graduate Certificate in Management (Data Science in Financial Markets) – PGCM (DSFM) was held on Saturday, August 27, 2022 at NISM, Patalganga Campus.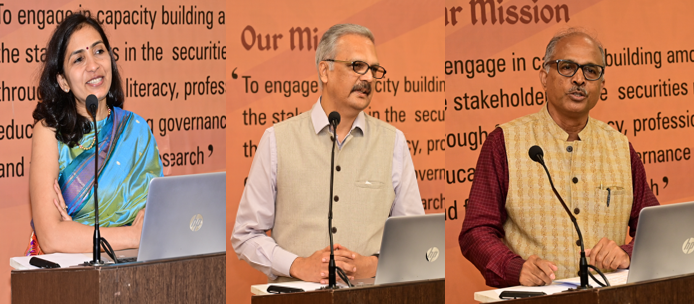 Mr. M. Krishnamoorthy, Programme Director, PGCM (DSFM) introduced the Professor & Dean (Academics), Registrar, Director and welcomed the students.
Dr. Rachana Baid, Professor & Dean (Academics), NISM congratulated the students for securing admission in this unique programme and welcomed them to the realm of analyzing data with a good understanding of the Securities Markets. Dr. Baid advised the students to prepare before the class and take active role in discussions in the class and make the sessions interesting and more meaningful.
Mr. Sunil J. Kadam, Registrar, NISM during his message spoke about abundance of data in the stock market and using that data purposively. He also deliberated on how to convert data into useful tool as there is a huge demand for correct data in today's world.
Dr. CKG Nair, Director, NISM during the Inaugural address highlighted the development of data; data lags and slow processing in the past to high frequency indicators and the big data and fast processing tools of the present day.  Simultaneously sacredness of the data has been lost to data commercialization. He also spoke on the rapid technological changes and innovations aiding leap-frogging changes on data analytics
and at the same time raising concerns of data privacy and data safety.  He advised the Students to use the new tools and technology for the benefit of the people. Dr. Nair appealed the students to think beyond the boundaries of the class room using 'audacity of imagination' in reaching new frontiers of knowledge. Dreaming big, even like science-fiction writers and movie makers, can be precursors to great innovations in future.

Faculty members and Senior Officials of NISM introduced themselves to the students. Students, apart from introducing themselves, also shared their expectation from the Course.