Inaugural Ceremony of Post Graduate Certificate in Securities Markets ( PGCSM ) 2022-23 Batch
The Inaugural ceremony of the 12th batch of the Post Graduate Certificate in Securities Markets (PGCSM) was held on Thursday October 06, 2022 at NISM, Patalganga Campus.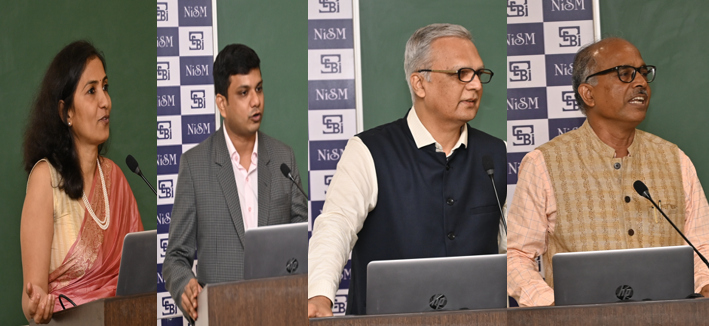 Dr. Narsimhulu Siddula, Programme Director, PGCSM welcomed the guests, faculty members and the students and gave an overview about the Students background, Course curriculum and its architecture.
Dr. Rachana Baid, Professor & Dean (Academics), NISM congratulated the students for securing admission in this programme and welcomed them for an active learning experience by way case studies, simulation lab etc. She added that the pedagogy of the programme is designed in such a manner which will give the students a practical orientation that will help them perform multiple tasks in the banking sector. She advised the students to make optimum utilization of Leadership lectures, industry/market interactions, library, the splendid infrastructure of NISM and inter-student interaction.
Mr. Akash Parekh, Zonal Head – Corporate Markets Group, ICICI Bank complimented the students for securing admission in this unique Programme. He deliberated on the key principles of ICICI Bank and asked the students to hold the ethos of the ICICI Bank high not only while studying but also in the work sphere. He said the unique programme anchored by the two institutions will equip them to learn more and sharpen their skills which, in turn help in career progression. He spoke about the ever evolving possibilities in the banking sector and opined that the programme will help the students to effectively cope up with the challenges in the banking sector.
Mr. Sunil J. Kadam, Registrar, NISM advised the students to avail the advantages of the state-of-the-art infrastructure of the campus in an effective and efficient manner. He urged the students to maintain the discipline in both campus as well as in class.
Dr. CKG Nair, Director, NISM during his inaugural address, highlighted the role of financial sector and the substantive changes sweeping the sector in terms of new organizational forms, new products and new technology. He emphasized the need for learning on all these fronts to keep abreast with the fast-paced changes in the sector, as expected from high-end professionals in the field. He also urged the need for being fully compliant with the laws and in upholding the organizational values and goals as trust and reputation are key to the success of both the organization and the employees.

Faculty members and Heads of administrative departments of NISM welcomed the students and briefly interacted with them. Thereafter the students introduced themselves.
Twenty two participants from across the country who are selected by the ICICI Bank Ltd. after a rigorous selection process, have made it to the programme. This is a year-long programme where the students spend nine months in NISM, Patalganga Campus in a fully residential set-up and the remaining three months on internship with the ICICI Bank Ltd.