Inaugural Programme – LL.M. Investment and Securities Laws (2023-24 Batch)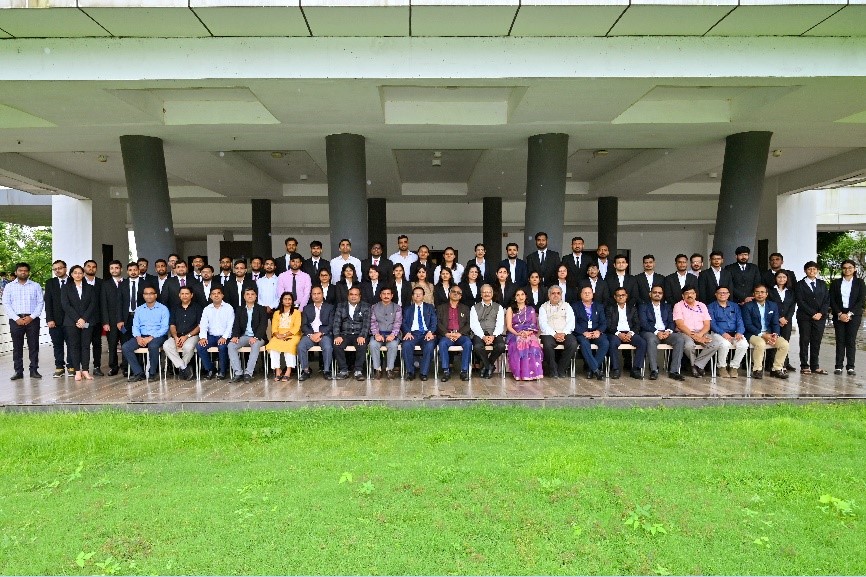 The fourth batch (2023-24) of LL.M. (Investment and Securities Laws) was inaugurated jointly by Director, NISM Dr. CKG Nair and Vice-Chancellor, MNLU Prof [Dr]. Dilip Ukey in the presence of Registrars of both the institutes, Faculty Members and Senior officials, of NISM on July 17, 2023.
Dean [Academics], Dr. Rachana Baid welcomed the students, their parents, other faculty members, Senior officials, staff members and guests and congratulated the students for joining the prestigious Course.
Dr CKG Nair, Director, NISM, in his address spoke about the fast growing economy, ever changing, dynamic nature of financial markets and evolving financial sector laws and regulatory structures. Further, he emphasised the incomplete nature of law in the financial sector and therefore, the need for learning the art of its interpretation by acquiring deep knowledge of the law and various judgements as well as connecting to the basic principles of justice and constitutional morality.
Prof. (Dr.) Dilip Ukey, Vice-Chancellor, MNLU Mumbai congratulated the students for securing admission in this program and briefed about other programs offered by MNLU, exemplifying the application of law in diversified areas. He advised the students to remain focussed on their study and research and keep away from various distractions. He told students to use the time of one year in developing their knowledge and skills and preparing some good research projects, in addition to becoming ambassadors of NISM and MNLU.
Dr. Anil Variath, Registrar, MNLU, Faculty Members, Senior officials and students introduced themselves during the occasion. The students, coming from most of the states and UTs, provide an eclectic mix.
Registrar, NISM, Mr. Sunil Kadam proposed the Vote of Thanks.