Leadership Lecture Series |Address by Mr. A. Balasubramanian, Managing Director and CEO, Aditya Birla Sun Life AMC Limited
Mr. A. Balasubramanian, Managing and CEO, Aditya Birla Sun Life AMC Limited addressed the students and faculty members of NISM on Thursday March 24, 2022 as a part of Leadership Lecture Series9. On the topic "Evolution of World of Finance".
Dr. C K G Nair, Director, NISM delivered the opening remarks and extended a warm welcome to Mr. A. Balasubramanian
Mr. Balasubramanian, during his address, discussed the waves of changes witnessed by Financial Institution over the period of time and how it has impacted life and practices. He discussed about the shift from Financial Institution to Banking-led Financial Institution and other impact of technology on financial world. Thereafter he explained the relationship between money flow and finance system.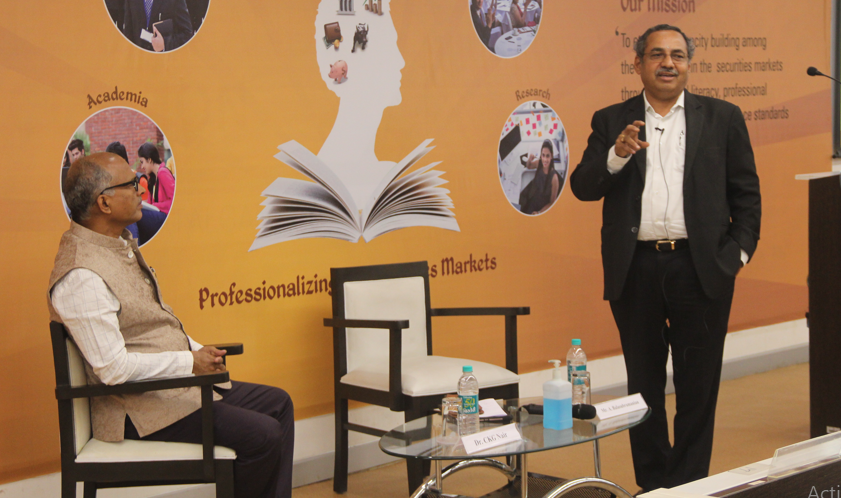 The systematic, but extempore style of talk, with relevant anecdotes immensely benefitted the attendees. During the Q & A session held thereafter, various practical questions raised by both faculty members and students were appropriately responded by the Guest Speaker.
Dr. Rachana Baid, HoD, SSE while proposing Vote of thanks profusely that Mr. Balasubramanian for giving practical insights on the changing Finance spectrum and explaining the concepts in simple and lucid language. The session was not only informative but also highly interactive.