Online Programme on 'Investigating Economic Crimes in Securities Markets' for Revenue Service Officers
The School for Regulatory Studies and Supervision (SRSS) of National Institute of Securities Markets (NISM) conducted a four-day Online Programme on 'Investigating Economic Crimes in Securities Markets' for Revenue Service Officers from October 05 – 08, 2021.
Mr. M Krishnamoorthy, Programme Director, NISM, welcomed the dignitaries and the participants and introduced the theme of the Programme.
Dr. CKG Nair, Director, NISM was the Chief Guest for the programme. During the inaugural address he spoke in detail about the Securities Markets Violation like Collective Investments Schemes, Vanishing Companies, siphoning-off funds through Global Depository Receipts, trading through Illiquid Stock Options etc. Director-NISM also dwelt upon how the investigation is conducted by regulatory organizations and subsequent enforcement actions taken by them for for such violations.  He requested the revenue services Officers to make use of the rich experience and expertise of the faculty members.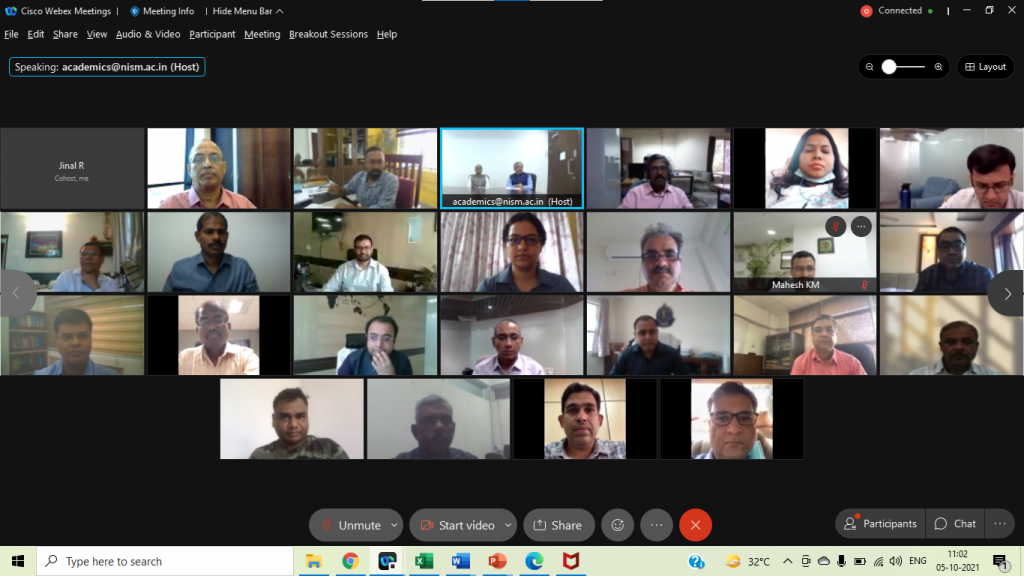 There were 33 revenue service officers in the ranks Principal Commissioners, Additional Commissioners, Assistant Commissioners, Superintendents, Deputy Directors, Additional Directors, Deputy Commissioners, Senior Intelligence Officers etc. who has attended the said programme.
The technical sessions were conducted on various contemporary topics like Indian Capital Markets, Primary Market Process, Secondary Markets, Basics of Derivatives, Potential Manipulations in Derivative Trades, Regulatory Framework for Mutual Fund Industry, Investigations related to Insider Trading, Surveillance of Securities Markets, Role and functions of SEBI and powers, Quantitative Tools for investigating securities etc. Online Trading on Simulation Portal was also conducted in order to understand the market trend as well as analysis the pattern which may help in investigative the securities market crimes.
Mr. Sunil J. Kadam, Registrar, NISM while delivering the valedictory address emphasised about having more training programmes of such kind to impart securities market knowledge to government agencies like CEIB. He elaborated the role played by SEBI in in streamlining the Securities Markets and bringing in regulations to constantly monitor the markets. He further complimented the Revenue Service Officers for showing keen interest in attending the Programme.
The programme was well received by the participants and they expressed their wish to have more such practical sessions in future. Mr. M. Krishnamoorthy proposed the vote of thanks.