Online Training Programme on "An Overview of Securities Markets" for Trainee Officers of Indian Economic Service |May 3-7, 2021|
The School for Regulatory Studies and Supervision (SRSS) of National Institute of Securities Markets (NISM) had conducted a Training Programme for Trainee Officers of Indian Economic Service (IES) from May 3 to 7, 2021.
The programme was aimed at capacity building of Indian Economic Service Officers by providing them with an overview of various aspects of the securities markets.
Shri M Krishnamoorthy, Programme Director, SRSS, welcomed the dignitaries and the participants.  He requested the participants to make use of the experience and expertise of the speakers.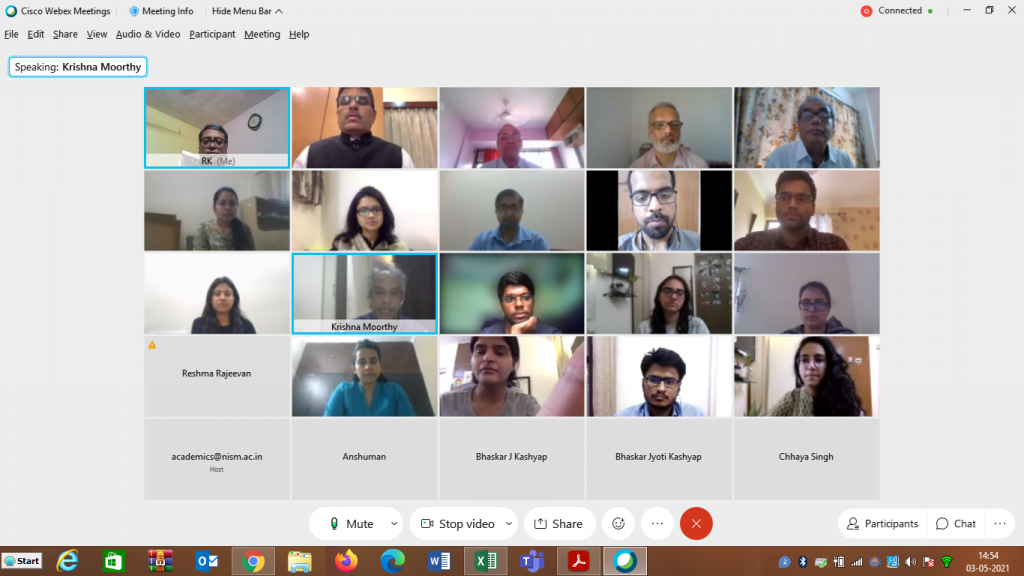 Shri Santhosh Kumar Mohanty, Whole Time Member, SEBI and Director-NISM, inaugurated the programme and addressed the participants. Director-NISM in his inaugural address outlined the role of securities markets in supporting the corporates in mobilisation of funds. He also highlighted the various securities market reforms and investor protection measures taken by SEBI.
Shri V R Narasimhan, Dean-SRSS, kick-started the technical sessions and spoke at length about the Securities Market Eco System and also the role played by technology in securities markets.
Details of faculty members who had taken Sessions in the programme is provided below:
| Topic | Resource Person |
| --- | --- |
| Securities Markets Eco System | Dr. V R Narasimhan, Dean, NISM- SRSS & SCG |
| Market Surveillance | Mr Sunil J Kadam, Registrar, NISM |
| Primary Market Process & Secondary Markets | Dr. Nitin Tike, General Manager, NISM |
| Role of NISM in Securities Markets & Collective Investment Schemes | M Krishnamoorthy, Member of Faculty, NISM |
| Fixed Income Securities | Mr Ritesh Nandwani, Member of Faculty, NISM |
| Basics of Derivatives | Mr. Arup Mukherjee, MD& CEO, India International Clearing Corporation (IFSC) Limited. |
| Mutual Funds – Structure – Schemes- Investment Regulations | Dr Rachana Baid, Professor & HOD, SSE |
| Potential Manipulations in Capital Markets | Mr Vishal Padole, Member of Faculty, NISM |
| Trading in Simulated Environment – NISM Finance Lab-I | Dr. Pradiptarathi Panda / Mr. Meraj. Inamdar, NISM |
| Role and functions of SEBI & Investigations related to PFUTP violations and case laws | Mr Suresh Gupta, former Chief General Manager, SEBI |
| Enforcement by SEBI and Functions of Securities Appellate Tribunal | Mr Sahil Malik, General Manager, NISM |
| Investigations related to Insider Trading – Important provisions of SEBI (PIT) Regulations | Ms Shailashree Bhaskar, Consultant |
| Corporate Governance – Issues of mis-governance | Mr J N Gupta, Founder & MD, Stakeholder Empowerment Services (SES) |
| Overview of Commodity Derivative Markets. | Dr V Shunmugam, Consultant, NISM |
Mr.Sunil J Kadam, Registrar, NISM, in his valedictory address, stated that the learning during the last one week would help the participants in decision making while dealing with issues relating to securities markets in their day-to-day work.
Around 31 participants attended the Training Programme and benefitted from the deliberations.
The programme concluded with a vote of thanks by Mr.Bhaskar Kashyap, Trainee Officer, Indian Economic Service.
*****