Online Training Programme "Role of RBI, SEBI and Overview of Securities Markets" |June 21 to 24, 2021
The School for Regulatory Studies and Supervision (SRSS) of National Institute of Securities Markets (NISM) had conducted a Training Programme for Trainee Officers of Indian Civil Accounts Service (ICAS), Indian Civil Defence Accounts Service (ICDS) and Indian Post & Telecommunication Accounts and Finance Service (IP&TAFS) from June 21 to 24, 2021.
The programme was aimed at capacity building of these Officers by providing them with vital inputs on the role RBI, SEBI and also about the various aspects of the securities markets.
Shri M Krishnamoorthy, Programme Director, SRSS, welcomed the dignitaries and the participants.
Shri Prabhat Acharya, Director, Arun Jaitley National Institute of Financial Management (AJNIFM), in his address, provided an overview of the Training Programme and also sought for an increased cooperation between NISM and NIFM.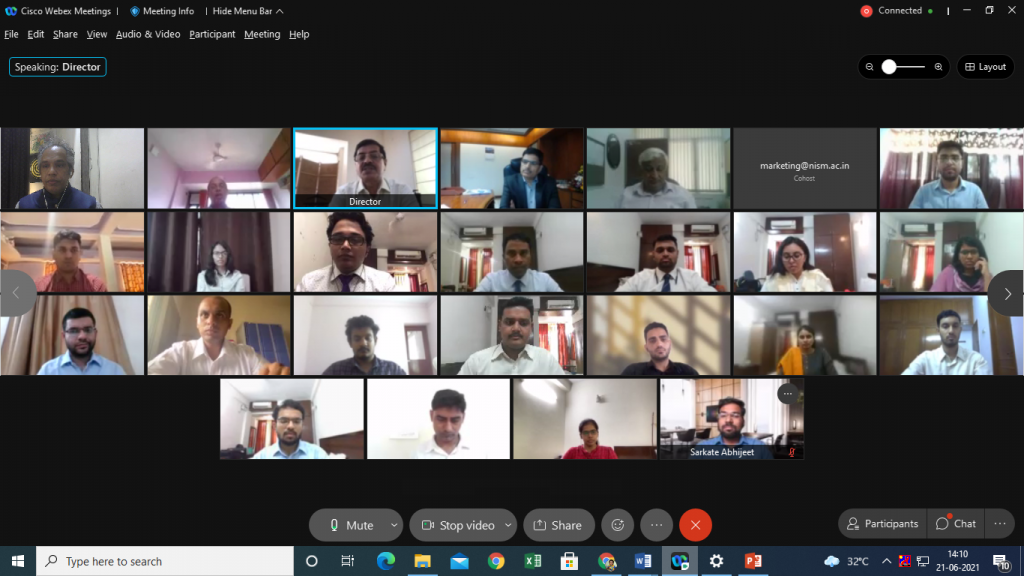 Shri Santhosh Kumar Mohanty, Whole Time Member, SEBI and Director, NISM, inaugurated the programme and addressed the participants. Director, NISM in his inaugural address highlighted as to how securities markets eco system is functioning effectively and efficiently, despite the challenges posed by the COVID-19 pandemic.
Director, NISM also guided the Officers and advised them not to restrict their passion and interest within a specific, as life has become very fungible.
Details of faculty members who had taken Sessions in the programme is provided below:
| Topic | Resource Person |
| --- | --- |
| Presentation on NISM | Mr. M. Krishnamoorthy, Member of Faculty, NISM |
| Regulatory Role of Reserve Bank of India (RBI), Overview of Foreign Exchange & Reserve Management by RBI, Role of RBI in Public Debt Management. | Mr. R. Giridharan, General Manager, RBI |
| Role of SEBI in Protecting Market Integrity | Mr. V. S. Sundaresan, Executive Director, SEBI |
| Securities Market Regulations | Dr. V. R. Narasimhan, Dean, NISM |
| Corporate Governance in India – Issues & Challenges | Ms. Surabhi Gupta, General Manager, SEBI |
| Overview of functioning of Stock Exchanges in India | Mr. Vitthal More, Senior Vice President, NSE |
| Primary Market Process – Public Issues, Secondary Markets: Equity Trading, Clearing & Settlement and Risk Management at Exchange | Dr. Nitin Tike, General Manager, NISM |
| Basics of Derivatives | Mr. Vishal Padole, Member of Faculty, NISM |
| Fixed Income Securities | Mr. Ritesh Nandwani, Member of Faculty, NISM |
| Mutual Funds-Structure-Schemes- Investment Regulations | Dr. Rachana Baid, Professor and HOD, NISM |
Prof.K.P.Kaushik, Professor, NIFM, in his address underscored the importance of training in securities markets and also the niche role played by NISM in that area.
Dr. V R Narasimhan, Dean, NISM, in his valedictory address, stated that the learning during the programme would help the Officers in decision making while dealing with issues relating to securities markets in their day-to-day work.
Around 40 participants attended the Training Programme and benefitted from the deliberations.
The programme concluded with a vote of thanks.
*****