Report on Alumni Interaction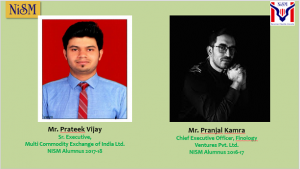 Report on Alumni Interaction
The alumni interaction to the new students was held on August 8, 2020. The seminar was addressed by our Alumnus Mr. Prateek Vijay, Sr. Executive, Multi Commodity Exchange of India Ltd. (MCX) and Mr. Pranjal Kamra, Chief Executive Officer, Finology Ventures Pvt. Ltd. Mr. Prateek has covered the "Delivery System in Indian Commodity Derivatives Markets". He has explained the complex terms of commodity markets is a simple manner and has answered all the queries of the students. Mr. Pranjal has covered the "Modern Valuation System" with examples of ethical investment and the simplest way to select stocks. Both of them has welcomed all the students and has encouraged them on how to be ready for the job market. They have shared their experiences on how to prepare for the job market, while they were students of NISM. They have shown the students two ways to build their carriers; one is to work for others (Join in the existing companies in the financial markets domain) and the second one is to work for yourselves (start a company at your own). Out of these two carrier paths, students shall start selecting one and start working towards it from day one.
This alumni interaction is a continuous activity of the alumni committee. All the interested alumni can write to us at- alumni@nism.ac.in with their topic of choice for the alumni interaction. We will accommodate accordingly.
The programme was coordinated and moderated by Mr. Ritesh Nadwani and Dr. Pradiptarathi Panda of NISM.