Special Address by Dr. M. S. Sahoo at NISM Patalganga Campus
Dr. M. S. Sahoo, Distinguished Professor, National Law University, Delhi visited NISM, Patalganga campus and addressed students and faculty members of NISM on November 16,2022.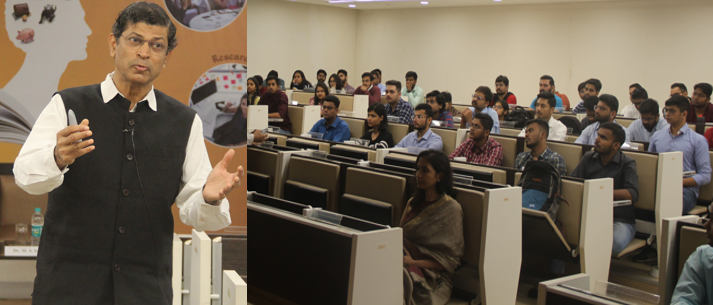 During his address, Dr. Sahoo elaborated on how economic freedom has tremendously enhanced along with civic freedom. He narrated by asking the participants, "Why do we need a company?" and discussed how the life of a firm is getting shorter, as well as the elements that contributed to the demise of companies. Dr. Sahoo also discussed the causes for the market failure, the economic independence and growth obtained by many economies across the globe.
Dr. Sahoo elaborated on the ways in which, alongside civic liberties, economic liberty has grown substantially. He described the country's three distinct phases of economic liberation: complete liberty of access, development, and egress. Dr. Sahoo added that the passage of the Insolvency and Bankruptcy Code has furthered economic liberty by providing the legal protections needed to help a failing. He further described these three factors form the bedrock of economic freedom, which is necessary for the prosperity of every nation.
During the Q & A session held thereafter, various thought provoking questions were raised by both faculty members and students and was responded by the guest speaker in a convincing manner.