The Third Annual International Capital Markets Conference 2022 on "Role of Capital Markets for Sustainable Growth of Economy"| (15-16 December 2022 | Jointly Organised by SRC-LSE & NISM)
The Third Annual International Capital Markets Conference on the "Role of Capital Markets for Sustainable Growth of Economy" was held on 15th, 16th December 2022 at the NISM Patalganga campus. The conference was organized by National Institute of Securities Markets (NISM), in collaboration with the Systemic Risk Centre (SRC) at the London School of Economics (LSE). The State Bank of India has sponsored this conference.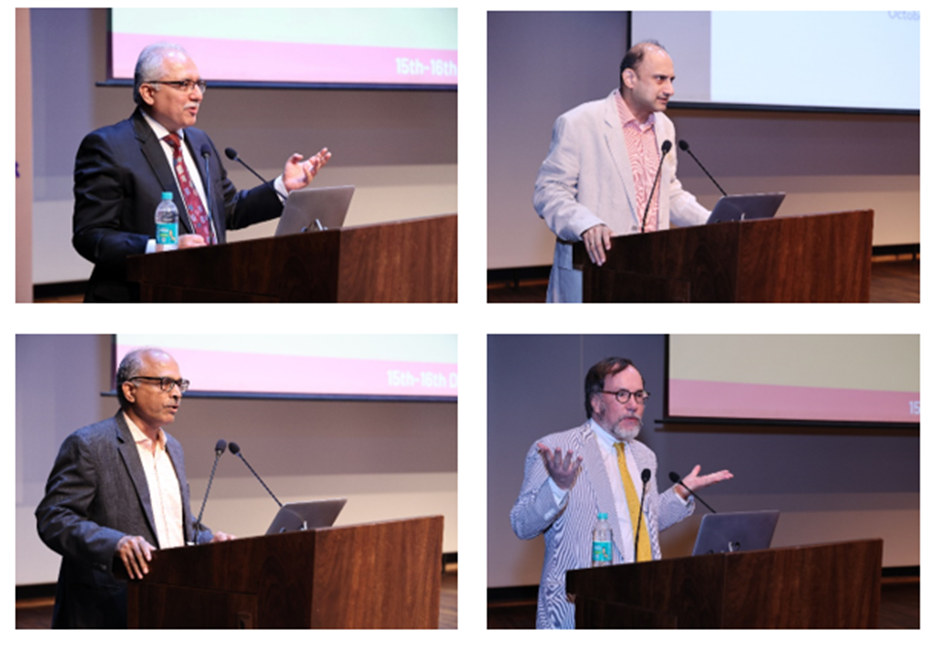 Dr Viral Acharya, Visiting Chair professor at NISM & C.V. Starr Professor of Economics at NYU-Stern School of Business, Mr. Amish Mehta, Managing Director and CEO of CRISIL, and Dr CKG Nair, Director of NISM, inaugurated the conference.
Dr Nair welcomed all the participants with his address on the significance of sustainable finance and provided an overview of the conference.
Dr Acharya addressed on the importance of managing physical climate risk for the growth and development of an economy. His address provided a lot of insights on the impact of climate change on performance and efficiency of firms, drawing various data and inferences from his work titled "Is physical climate risk priced? Evidence from regional variation in exposure to heat stress". The physical climate risks are hurricanes, groundwater draught indicators, and heat waves/stress damage. In his talk he highlighted that heat stress can lower operating efficiency and thereby affect firm performance and returns. Thus, physical climate risks influence the investor's wealth directly and indirectly, and heat stress risk keeps increasing.
Mr Mehta addressed on the significance of ESG factors, and the issues and challenges in measurement of each of the ESG factors. If these challenges related to ESG factors are addressed correctly, they can help companies and their investors by affecting their profitability, reputation, and existence.
The inaugural session ended with a vote of thanks presented by Dr. Kevin James, Coinvestigator at the Systemic Risk Centre at LSE.
Dr Zacharias Sautner, Professor of Finance, Frankfurt School of Finance & Management delivered an invited session on "Insights into the Methodology and Measures Used for Arriving at the ESG Score – Critical Appraisal". In his address, he explained the importance of ESG ratings, the methodology and challenges of ESG ratings, evidence on ESG ratings and conflicts of interest, and alternative approaches to ESG ratings.

Panel Discussion – "The Growth of Asset Management: Impact on Markets and Firms with a Focus on India" by Mr Amarjeet Singh (Executive Director, SEBI) and Dr Amil Dasgupta (Professor of Finance, SRC, London School of Economics and Political Science). Mr Singh explained the role of institutional investors in corporate governance, citing the evolution of the stewardship code in India, its implications for Mutual Funds and AIFs, and the increasing influence of institutional investors in India. Dr Dasgupta addressed how institutional investors can coordinate their trading action and express their voice related to governance through trading decisions. By choosing to exit companies that are not well governed they will contribute to increase in cost of capital for company, thereby discourage poor governance.
The Sub-themes of this conference are – Sustainable Capital Markets and Investments; Linkages between Financial Markets and Real Economy; Regulation and Financial Market Integrity; Fund Raising – Valuations and Disclosures; Changing Profile of Investor Segment in Indian Markets; Geopolitical Risks and Securities Markets Response; Institutional Investors and Governance. The conference received 147 research papers on these themes, 20 research papers were selected for presentation at this conference using a double-blind peer review process. These papers were presented in 6 different technical sessions. Papers were from IIMs (Banglore, Shillong, Ahmedabad, Indore, Tiruchirapalli, and Ranchi), IITs (Bombay, Roorkee, Ropar, Bhubaneswar, and Delhi), Pondicherry Central University, Rajasthan Central University with other eminent institutes from India. There were several papers from foreign countries like Queensland University of Technology –Australia; Haas School of Business, University of Alaska Anchorage, and Central Washington University –USA; University of Greenwich Business School, United Kingdom; King's College London; University of Duisburg-Essen, Germany; and Copenhagen Business School, Denmark. More than 150 participants attended this conference. Selected and Presented papers will be considered for publication in ABDC and Scopus-listed journals the conference has tied up, subject to the Journal's review process.
Dr N R Bhanumurthy, Vice Chancellor, BASE University, Bangalore, and Mr Ajit Balakrishnan, Chairman and Chief Executive Officer of Rediff.com delivered the valedictory address. Dr Bhanumurthy appreciated the paper presenters' work and said that inclusive, sustainable development goals could be achieved through ESG. Mr Ajit Balakrishnan encouraged the participants and paper presenters.
The conference has awarded three best prizes to the following authors:
1. First Best Prize- Debarati Basu and Shreyashi Chakraborty of Shiv Nadar University for their paper- "How do markets react to women leaders? An IPO investigation."
2. Second Best Prize- Simran and Anil Kumar Sharma of IIT Roorkee for their paper – "Asymmetric nexus between economic policy uncertainty and stock market: Evidence from India."
3 .Third Best Prize -Naina Duggal and Tara Shankar Shaw of IIT Bombay for their paper – "Impact of Mandatory CSR compliance on the Cost of Debt of firms in India."
The conference concluded with a vote of thanks to team NISM, team SRC, authors, reviewers, discussants and other invited guests.