Training programme on Fixed Income Securities for SEBI Officers
School for Regulatory Studies and Supervision(SRSS) of NISM organized a two-day training programme on Fixed Income Securities for SEBI Officers at NISM BKC Office, Mumbai on April 20 & 21, 2023.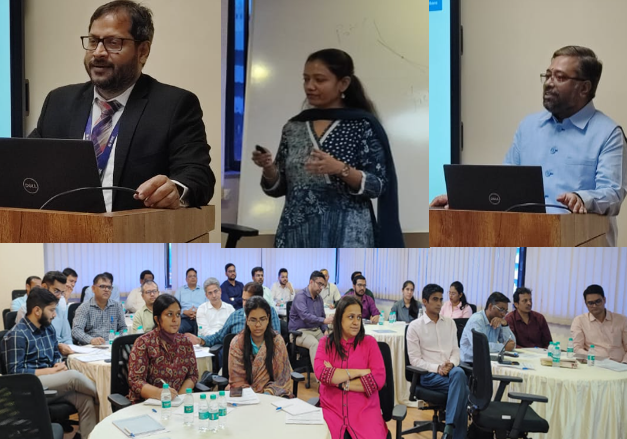 Dr. Ranjith Krishnan, Head-Academic Programme Unit , NISM welcomed the participants and introduced the theme of Two-Day Programme. Dr. Trithankar Patnaik, Chief Economist, NSE & Ms. Prerna Singhvi, Senior Economist, NSE in their lucid presentation deliberated on the Basics of macroeconomics parameters and gave an overview on Interest rates, monetary policy, fiscal policy, foreign exchange management etc. Mr. Vijay Kanchan, Adjunct Faculty, NISM elaborated on debt markets in India and the role of regulators in debt markets. He also covered different types of risks associated with debt instruments.
Ms. Smita Rajpukar, Director, CareEdge Raitings addressed on role of credit rating agencies, its mechanism and the challenges for building effective and efficient rating mechanism.
Mr. Sundar Sankaran, Adjunct Faculty, NISM discussed Pricing & valuation of Fixed Income Securities. He also talked about Bond price volatility and various factors that affect price volatility.He also broadly covered the price sensitity issues which can shift the interest rates.
Mr. Sunil Gawde, Former Vice President, NSE discussed about Government & Corporate debt instruments, its issue mechanism, clearing and settlements, money markets instruments and Corporate bond markets. Mr. Sanjeev Kumar, Head – Fixed Income, Edelweiss Global Markets elaborated on derivatives on interest rates and their working emphasizing on interest rate swaps and credit default swaps. The programme was highly interactive and participative where pertinent queries were raised by the audience at the end of each session. The speakers out of their rich and vast experience responded to the queries citing various examples.