Online Programme on 'IPO Process' for Officers of IREDA|July 17 – August 7, 2021
The School for Corporate Governance (SCG) of National Institute of Securities Markets (NISM) conducted a four-day Online Programme on 'IPO Process' for Officers of IREDA during July 17 – August 7, 2021. The programme was conducted on every Saturday for the Officers of IREDA.
Mr. M Krishnamoorthy, Programme Director, SCG, welcomed the dignitaries and the participants.
Dr V R Narasimhan, Dean, NISM, in his address stated that debt securities of IREDA are listed in the Stock Exchanges and some of the Officers of IREDA are aware of the listing requirements. The proposed programme is aimed at empower all the Officers of IREDA with the knowledge on listing and compliance.
Mr. Chintan Shah, Director (Technical), IREDA, in his address mentioned that NISM being a unique institution in the area of securities market training, the programme would be very useful for their Officers.
Mr. Pradip Kumar Das, Chairman and Managing Director, IREDA, in his inaugural address, hailed SEBI for bringing out transparency, accountability and competition in the securities markets. He also outlined the contributions made by IREDA in renewable energy segment and working towards attaining the vision of the Government of India. Mr. S K Mohanty, Whole Time Member-SEBI & Director-NISM, while delivering the Keynote Address, pointed out that listed companies should not look at compliance as a burden. He also stated that companies like IREDA, which are in the renewable energy segment, will attract responsible investments, on account of increased investors' appetite for ESG investments and that such investments would create wealth for investors in the long term.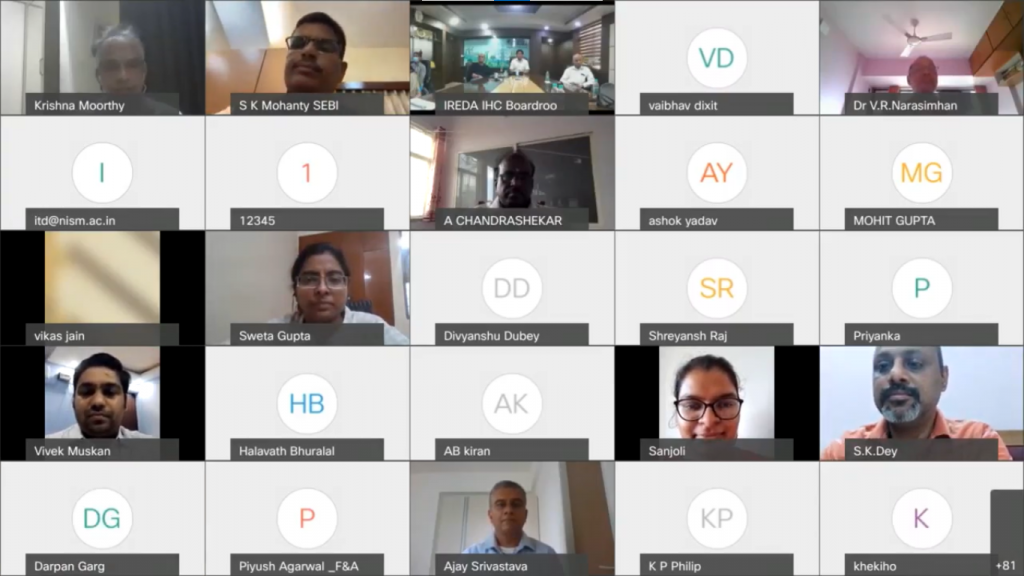 The Sessions delivered in the programme were on various topics including Organisational Preparation for IPO, Understanding and Unravelling DRHP, IPO Process, Obligations of a Listed Company, Regulatory Expectations from a Listed Company and Insider Trading. The faculty were drawn from NISM, SEBI and industry.
Mr. Sunil Kadam, Registrar NISM, in his Valedictory Address was of the view that this programme would help the participants in making decisions and also in complying with the regulations in both letter and spirit.
The programme was attended by 70 IREDA officers on all Saturdays and they benefitted from the deliberations. The programme was well received the participants and they appreciated the efforts of NISM for enlightening them with the knowledge on IPO process and listing.
*****