Two – day Online workshop on 'Collateral Financing of Agricultural Commodities – Opportunities, Risks and Way Forward' | 31st July – 01st August 2021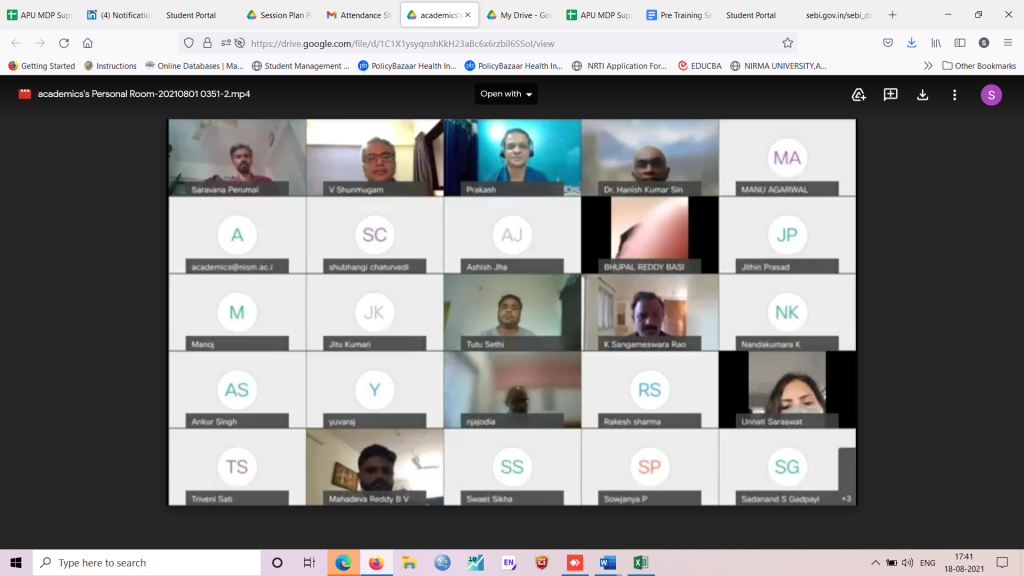 The Commodities Education Cell (CEC) of National Institute of Securities Markets (NISM) had conducted a two day online workshop on 'Collateral Financing of Agricultural Commodities – Opportunities, Risks and Way Forward' from 31st July – 01st August 2021. The Programme was attended by 44 Participants from various segments of the Agri-value Chain such as Farmers Producers Organisations (FPO's), NBFC's, Bankers, Warehousing Service Providers, and agriculture finance professionals, Students from Agri-Business Management Institute and participants from Logistics Industry. Officials from RBI and NABARD had also attended the workshop.
The main objective of the workshop is to provide understanding of the challenges in Collateral Financing in Agriculture commodities and the value of collateral management services besides creating awareness about the modern development in the field of warehousing, storage and collateral financing in agricultural commodities.
Participants were welcomed by Dr V Shunmugam, Consultant, NISM. The Programme was inaugurated by Mr. Sunil Jayawant Kadam, Registrar, NISM, and delivered the keynote address highlighting the importance of collateral management to connecting agricultural commodities and farmers/FPOs with world of finance.
Following areas were deliberated in detail during the workshop –
Collateral Financing – Overview, potentials, latest developments, Can collateralized goods be used for hedging, Do's & Don'ts for Financiers/Bankers and way forward.
Risks in Commodity Financing and its Management, Practices & Challenges faced in the disposal of collateralized goods.
Strengthening Farmers Producers Organizations (FPOs) through Collateral Management.
Legal Documentation – Checklist & Challenges, Legal hassles in Collateral Funding and their remedial measures.
Operations of Commodity Repositories and Types of Warehouse Receipts-Ease of Receipt Financing.
Price Discovery in Agricultural Commodity Markets – Valuation and its Role in Financial Risk Mitigation.
Importance of Quality Testing of Commodities in Collateral Financing.
WDRA – its accreditation mechanism and regulatory oversight – Role in mitigation of financial risks-Dispute Resolution mechanism in case of dispute over quantity/quality of goods.
Role of Technology in Risk Management in Collateral Management of Agricultural Commodities.
Sessions were taken by the market Professionals such as –
Mr. Krishna Mohan Singh – Head Commodities, Sr. President, Yes Bank Ltd.
Mr. Abhay Dandawate – Chief Risk Officer (C.R.O), National Bulk Handling Corporation Pvt. Ltd.
Mr. Ashish Anand – Founder & C.E.O, Whrrl.
Mr. Sanjay Khare – Angel Investor and Corporate Lawyer.
Mr. Taranjeet Singh Bhamra – C.E.O & Founder AgNext Technologies.
Mr. Umang Kapoor – Senior Manager, National E-Repository Ltd. (NERL).
Dr. Hanish Kumar Sinha – Professor of Practice, NISM
Mr. Anil Kumar Maurya – MD & C.E.O, NMCI Inspections and Survey Co. Pvt. Ltd.
Dr. R .K. Tripathi – Sr. Consultant (Tech), Warehousing Development and Regulatory Authority (WDRA).
Mr. Prakash Kumar – Founder, Vidaksh Technologies.
Dr. Venkatachalam Shunmugam and Dr. Hanish Kumar Sinha (Programme Directors) addressed the participants while closing the sessions and also sought feedback from the participants during the valedictory session. Participants thanked NISM for organizing the session and said that the sessions were very informative.