Message from the Director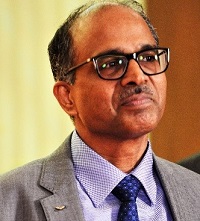 The National Institute of Securities Markets (NISM) has been established by the Securities & Exchange Board of India (SEBI) for promoting financial literacy, financial education and financial research as well as for building up a cadre of professionals in the securities markets. Currently, NISM is on an ambitious mission to both deepen and widen these tasks by a variety of capacity building activities. It endeavours to provide the intellectual backbone in tune with the aspirations and growth dynamics of the Indian securities markets to support the ambitious growth trajectory of our economy.
I am delighted to be part of this journey of NISM along with an existing efficient in-house team of faculty members and supporting officials. Given the expanded task being undertaken by NISM we are eagerly awaiting addition of a few eminent experts to join us in strengthening our team. NISM functions mainly from a large, green, state-of-the-art campus near Mumbai. The campus environment is quite serene and ideal for academic/ research work.
NISM has achieved a quite but sound reputation in promoting its objective through its six schools of excellence which conduct specialised programmes, certifications and tailor- made executive training modules. The long term programmes include Post-Graduate Diploma in Management (Securities Markets) [PGDM (SM)], LL.M. (Investment & Securities Laws), Post Graduate Program (Portfolio Management / Investment Advisory / Research Analysis [PGP(PM/IA/RA)], Post Graduate Certificate in Management (Data Science in Financial Markets) [PGCM(DSFM)] and Post Graduate Certificate in Securities Markets (PGCSM).
The trajectory followed by NISM in the last decade has encouraged me to undertake the challenge of working with an excellent team which is already available with NISM and to help take this organisation to the next level. I am also sure that the quality, skills and dedication of the students and participants of various programmes and the resulting message they would convey will also help in achieving successive milestones in the journey of NISM.
I heartily welcome all sharp minds who are aspiring to be part of the growth story of the Indian financial/ securities markets as well as those who are endeavouring to upgrade their skills in their current capacity to come and join the ambitious journey of our securities markets.
C.K.G. Nair
Director