Training programme for officials of NABARD and SIDBI on "Social Stock Exchange"
NISM organised a two-day training programme on Social Stock Exchange (SSE) for senior officials of NABARD and SIDBI at NISM Campus, Patalganga during April 10 & 11, 2023.
Shri S K Jahagirdar, General Manager, NABARD delivered the opening address. The inaugural address was delivered by Shri. Jeevan Sonporate, Chief General Manager, SEBI. During his address, Shri. Sonporate touched upon the various reforms during the last few years and discussed several initiatives taken by SEBI on Social Stock Exchange.  He further spoke on the role of SSE in helping for profit and not-for-profit enterprises; the former with substantive 'social' content in their activities.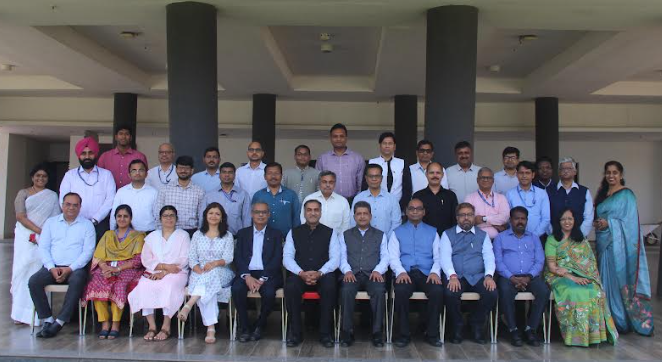 During the two day deliberations, various other aspects of SSE viz; challenges being faced by NGOs, role of capacity building fund in SSE, registration and listing of social enterprises on SSE, social audit framework and social auditors, social accounting and audit practices etc. were covered. Resource persons from SEBI, exchanges and professionals from different walks shared their experience with the participants. Besides this, representatives from NGOs were also invited to share their experiences and discuss how they are overcoming various anomalies and challenges in strengthening the framework of the SSE. The NISM certification wing led by Dr. Nitin Tike, Senior General Manager elaborated on the certification exams for social auditors.
Shri Davasis Padhi, Chief General Manager, NABARD during the valedictory address complimented the efforts made by SEBI and NISM in curating and organising this program of immense contemporary relevance. He said officers of NABARD and SIDBI have a pinnacle role to play in Social Stock Exchange and hence should gain working knowledge in this arena. 32 officers from NABARD and SIDBI at the level of GM, DGM and AGM attended the programme.