About Enterprise Risk and India Regulation Course (ERIRC)
The ERIR course has been designed to equip candidates with the practical knowledge of ERM implementation and reporting as per the regulatory mandates under the Companies Act 2013, Securities and Exchange Board of India (SEBI), Reserve Bank of India (RBI), and Insurance Regulatory and Development Authority (IRDAI). This course covers the theory and practice of important aspects of the ERM process including risk policy, risk appetite, risk culture, building risk teams/champions, risk universe, and the role of stakeholders in the ERM process. The ERIR course also provides practical guidance on risk reporting with suggested formats/templates in line with best practices and Indian regulations.
The course is jointly offered by the National Institute of Securities Markets (NISM) and the Institute of Risk Management (HQ: UK), India Affiliate.
Certificate: Earn a Certificate upon successful completion
Flexible Timeline: Learn in accordance with your schedule
100% Online: Start now and learn from anywhere
Learning Hours: Approximately 16 hours to complete.
Learning Medium: English



Who should take this course?
Chief Risk Officers, Chief Compliance Officers, Chief Internal Auditors, Chief Audit Executives, Investor Relation Officers, and any CXO responsible for/ keen in identifying the risk functions
Chartered Accountants, Company Secretaries, and Cost Accountants
Professionals working in risk, compliance, audit, investor relations, etc.
Professionals across different business functions responsible for reporting risks to the risk management department (risk champions)
Professionals working in any risk-related services like risk consulting, risk tech, ESG risk advisory, governance, and risk advisory, SME /startup advisory risk-based internal audits, GSC and other areas
Merchant bankers involved in Initial Public Offering advisory
Corporate governance lawyers / legal professionals
Other working professionals with keen interest in ERM and Regulation
Course Content
The focus of this course is to provide practical guidance on risk reporting with suggested templates in line with Indian regulations. Key modules include
Global and India risks
Risk process, appetite and culture
Governance and responsibility
Global standards and regulations in sustainability
ERM Regulations in India
ESG Regulations in India
Cyber-security Regulations in India
Reporting and disclosure regulations for ERM, ESG and cybersecurity
Suggested formats and templates including examples
Reporting Process
For details, download the course prospectus.
Learning Hours and Access Period
This course has approximately 16 hours of learning content including instructor-led pre-recorded e-learning videos and assessments.  To complete the course, you will be given access to the course content for 6 months from the date of your registration.
Assessment and Certificate
Candidates will be tested through an online Multiple-Choice Question-based assessment of 30 minutes immediately after the course. Candidates will need to score a minimum 60% in the online assessment to earn the certification. After successfully passing the assessment, you will be able to download the course Certificate.
Image of a sample certificate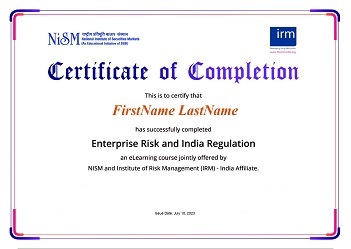 Course Fee
For Individual Candidates:
The course fee is Rs. 5,000 plus applicable taxes per candidate. This fee includes access to the course content, assessment and certification.
For Corporate Candidates:
Corporates having a minimum of 5 candidates can avail a discount of 10%, and corporates with 10 or more candidates can avail a discount of 20% on the course fee through the bulk registration facility.
For bulk registration, the corporate is required to provide the following information to NISM:
1. Details of SPOC (Single Point of Contact)
2. Number of candidates to be registered.
3. Company details
4. Banking details
5. Copy of PAN, GSTIN, and cancelled cheque
Accordingly, NISM will raise a proforma invoice for payment. After the payment is received, NISM will share an excel format in which the candidate details are to be provided. NISM will register these candidates from back-end and login credentials will be shared with the candidates on their email. After this, the candidates can login to NISM's LMS and start the course.
For more information, please write to elearning@nism.ac.in



FAQs
1.  How to register for the course?
To register for the course, click on the register button on the top right corner, next to FAQs.
2. How to pay the course fee?
During the registration, you will be prompted to pay online using Net Banking, Debit or Credit Cards, UPI, and Wallets.
3. What is the duration of the course?
The course has approximately 16 learning hours of content.
4. What is the access period for the course?
You will get access to the course content for 6 months from the date of your registration.
5. Can I access the content in my mobile?
Yes, the course can be accessed through the mobile devices.
6. Can I download the content?
No, it cannot be downloaded.
7. What is the passing criteria?
A minimum of 60% marks is required to pass the assessment.
8. What is the assessment pattern?
The assessment will have all MCQs type questions.
9. What is the duration of the assessment?
The duration of the assessment is around 30 mins.
10. How many questions will be there?
The assessment will have around 20-25 questions.
11. Will there be any negative marks for wrong answers?
No, the assessment do not have any negative marks. All questions are mandatory.
12. What if I fail in the examination?
If you fail in the examination in your first attempt, you may re-visit the course module, clear your doubts, and re-attempt the assessment.
13. How will I get my certificate?
After successfully passing the assessment, you will be able to download the course Certificate.



The Institute of Risk Management (IRM)-India Affiliate
The Institute of Risk Management (headquartered in the UK), established in 1986, is the world's leading professional body for Enterprise Risk Management (ERM) qualifications, training, and examinations. IRM has been driving excellence for over 35 years across 143 countries. With IRM India Affiliate, students and professionals across India can register for the global ERM exams and pursue the 5-level pathway to Certified Fellowship with designations at each stage after Level 2 and join a global community of risk-intelligent leaders. For more information, visit www.theirmindia.org/about-us